Simpler Trading – Taylor's The Big 3 Signals ELITE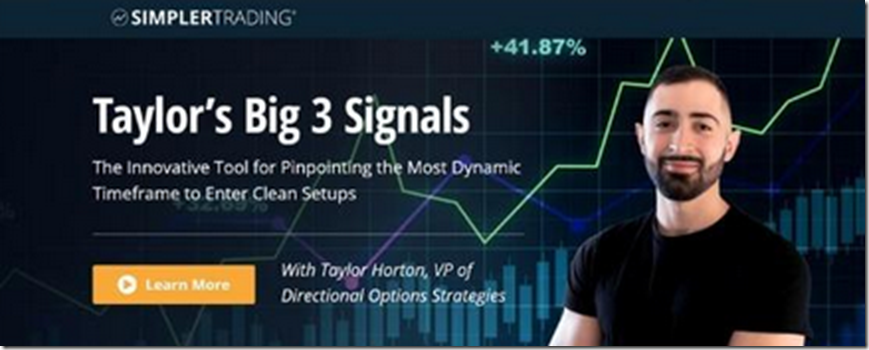 Course Overview
Taylor's
 

Big 3 Signals

 

by Simpler Trading presents a comprehensive walkthrough on practical strategies and effective tools to pinpoint the next market trends. It is not an online course full of theories but shares robust frameworks with real case studies and examples.
Taylor Horton is a great trader with years of experience. So, what you can expect from this course is a glimpse into his trading! You can learn his watchlist, checklist, his powerful indicator, and tried-and-true strategies through coherent instructions.
Course Outline
Taylor's

 

Big 3 Signals Strategy Class.

Big 3 Buy and Sell Signals Indicator.

Recordings of 4 Live Trading Sessions.

Bonus: How to Trade Reversals.
What Will You Learn?
Learning how to take advantage of the Big 3 Buy and Sell Signals Indicator.

Access to the watchlist that helps you spot hidden trading opportunities.

The simple principle behind successful strategies.

You can learn through the lens of reality when Taylor Horton breaks down his case study – winning 40% profit in 2 days in ZM.

The best practices of chart reading for invaluable insights into the market trends.

How to spot the reversals before they actually happen.

Detailed instructions on the "5-15-30" method to pinpoint the turning points in an oversold market.

How to get the right timing to stop shorting the bounce and flip bullish trends.

The signals of exhaustion on lower timeframes for more accurate market forecasting.

Learning how Taylor Horton applies his strategies and tools to real trading through records of live-trading sessions.
SIZE: 3,2 GB
Simpler Trading – Taylor's The Big 3 Signals ELITE Contents: Videos, Pdfs, Indicators