LISTEN TO THE "ALL-STAR" SPEAKERS OVER & OVER AGAIN WITH THE RECORDINGS!
EXCLUSIVE & RARE OPPORTUNITY
to get the absolute latest SEO trends, SIA Tested Material and "Recipes" while sitting in the comfort of your own living room or office (or anywhere!)
This is being put on by the founders of the SEOIntelligence Agency, so you know you are going to get the LATEST scope on what is working and what is not.
And because of that, I chose Speakers whose SEO practices and the SEO information they give out correlate with our tests findings. We have done well over 500 tests so we know when someone is bullshitting or not.
You will get information that is:
Up to date
Leading edge facts, not skimpy theory based on myths
Tested and proven to work
Strategies that others don't talk about
SEO you can take to the bank
It is hard to describe but once you have been to an SEO Rockstars event you will "get it" and say "Oh, yeah. Dori DID say it would feel like this; no snooty people allowed."
This was our first ever VIRTUAL SEORockstars event. It was 4 DAYS of 100% jam-packed SEO Knowledge Bombs.
In the recordings, you will hear things you have never heard before.
We busted SEO myths and delivered SEO Test results and Case Studies that will only be shared here.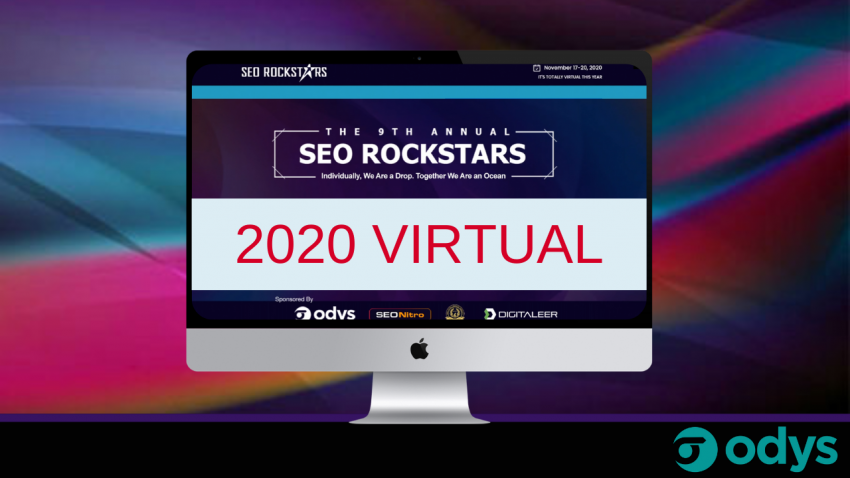 Dixon Jones
Description: What if we told you there is something more powerful than keywords? Would you believe us? Dixon is here to reveal what he has found is more powerful than keywords and is even replacing keywords in the SERPs. Google is already moving in this direction. Dixon shows you the tools you can use to stay ahead of your competition.Do the names Majestic and InLinks ring a bell? Dixon has over 20 years of experience in search marketing and 25 years of business innovation experience. Hes currently serving as the CEO of Inlinks.net.
Length: 00:53:00
Ryan Stewart
Description: Scaling your agency isn't about doing more, it's about doing less. In this talk, we'll cover how to "productize" your cumbersome agency services into a streamlined, efficient product. The result is a more agile, higher margin, reduced headache business model that scales with less friction.As a consultant for Deloitte, Ryans marketing journey started over 10 years ago. He has worked with Aim, Best Buy, and the DoD as a strategist. He then went on and founded WEBRIS in early 2016. Fast forward to this year and he wrote the book on SEO…literally. And its an Amazon Best Seller.
Length: 00:59:17
Lisa Parziale
Description: All it takes is 3 secret tweaks to change your business forever. Lisa shares the three secrets she has learned that changed her business and her life forever. Shell share with you the steps and processes she uses so you can replicate it too. You do not need to spend years in limbo as she did.Lisa is the co-founder of Portside Marketing, LLC, EZ Online Printer and Agency Fast Track. She has built a multi-million dollar empire. Known as the sales guru to the SEO community, Lisa has an established track record of client success and has been recognized by Entrepreneur Magazine.
Length: 00:47:39
Watched: 00:00:00
Remaining: 00:47:39
Jerry West
Description: PBNs are an important part of SEO and ranking. Jerry takes you through real and actionable link building strategies for your PBNs. He will share his secret box of tools he uses to keep sites ranking in todays environment.Jerry is Ungaggeds keynote speaker, along with being PubCons annual speaker and moderator. Jerry has generated over $26M in sales for three years. His long list of qualifications includes being a certified consultant for Amazon and eBay.
Length: 00:50:33
Watched: 00:00:00
Remaining: 00:50:33
Keith Evans
Description: Are you in the local market and need local links that actually move the ranking needle? Keith walks you through his exclusive method for finding local links. But finding them are never enough. And most people miss this step he shows you to how optimize them for your market.Keith has over 15 years of experience in marketing and advertising. He ownes UpHero. From marketing to sales and regarding technological applications, Keiths knowledge is enough for you to increase your brands online presence and sales without paying such a high price.
Length: 00:28:00
Matt Versteeg
Description: Does it feel like youre doing Guess-EO instead of SEO? Every time you need to rank a client or project do you find yourself second guessing rather than following a repeatable set of Formulas? In this session, Matt Versteeg will reveal 5 of his proven SEO Formulas that still produce rankings. Some will be simple. In fact, you may have done these tasks before. But Matt will show you how Formulizing simple SEO tasks that you can outsource will produce the greatest amount of rankings without all of the stress.Matt is an online marketing expert. Scaling goals and businesses through different approaches and techniques are just one way this magician can help you get results that increase your sales and expand your network!
Length: 01:01:00
Mike Long
Description: The behind the scenes of HOW they have sold over $50,000 a month (MRR) at a 75 percent profit rate of SEO to COLD clients in a way thats win win win and feels so good and wholesome, that you could explain to your aunt at Thanksgiving and shed cheer!Once you see this, you cant unsee it!Mike Long co-founded 50-million profit OMG Machines. He was a founding partner of Stompernet. They have built a very successful and well regarded SEO community. Mike is deeply involved in SEO client consulting and even paid cash for his Rolls Royce Dawn 100% with SEO client paychecks!
Length: 00:51:00
Eric Brief & Michael Tesalona
Description: The behind the scenes of HOW they have sold over $50,000 a month (MRR) at a 75 percent profit rate of SEO to COLD clients in a way thats win win win and feels so good and wholesome, that you could explain to your aunt at Thanksgiving and shed cheer! Because these guys are who they are, they decided to start a brand new work-a-day SEO client consulting business focused on Air Conditioning and Heating contractors right before Covid started. That meta agency is now up to $50,000 per month at a 75% profit with RABID customer pride! They even have an INSTAGRAM dedicated to their Heating and Air Conditioning contractor customers, many of whom have added $100,000 PER MONTH to their bottom line? Did I say this was SEO ROCKSTARS?
Length: 01:31:00
Robert Niechcial
Description: Robert is going to reveal to you what's in the background of Google, how Google algorithms actually works, and how to take advantage of that science for better rankings. Robert is a partner in Vestigio – first Data Science SEO agency in the world. He has 17 years of experience in SEO and affiliate marketing. In his professional history, he ranked websites from the simplest keywords up to payday loans in the UK and USA.
Length: 00:46:32
Bill Hartzer
Description: In this session, Bill Hartzer will talk about domain names and SEO. He will walk you through his buying domains process, find expired domains, and how he sells them for $$$. Hell reveals his process for migrating domains. BONUS: Hell show you the domains you should buy "right now".Bill is a blogger, writer, and marketer with a passion for everything internet. As one of the OGs of SEO, Bill started coding html websites back in the mid-1990s, as well as buying & selling domain names. He runs a weekly, members only podcast for the SEO Intelligence Agency.
Length: 01:01:39
Ted Kubaitis
Description: In this presentation, Ted Kubaitis will walk you through the most recent discoveries, leaks, and announcements that are shaking up SEO this year. When you think about the past year in SEO if you have a feeling of WTF just happened? well, you are not alone. Lets take a walk through all of these discoveries and try to shed some light on how things are changing.Ted is the CEO and the developer of Cora SEO Software for the SEO Tool Lab. Ted frequently appears on the Youtube show White Hat Versus Black Hat and talks at SEO conferences such as CMSEO, DMSS, SEO Rockstars, and many more.
Length: 00:50:26
Carolyn Holzman
Description: What you NEED to know about Alexa and the future of on demand audio – In addition to her SEO research, Carolyn is the producer of The SEO Fight Club on Roku and Amazon Fire growing both a national and international audience for the show. She will be sharing her research and testing on the fledgling Amazon platform. Discover never-before shared intelligence on what Alexa has to offer today and in the future and the secret Alexa optimizations that will allow you to dominate this platform.Carolyn is the producer of The SEO Fight Club on Roku and Amazon Fire growing both a national and international audience for the show. She yields high results on search engines, Google News, and social media. Her methods have been published in several publications and magazines.
Length: 00:34:01
Dino Gomez
Description: Facebook is in the news so much lately with its every change algorithm filters its hard to know what works through it all. When done right, Facebook ads are one of the best methods of advertising. Dino shares with you his sure-fire ways to scale your Facebook advertising with his private hacks and tips.Dino makes a living running an internet marketing firm and having a blast doing so. His business was strategically built and systematized over the years so that he and his contractors can work remotely and on their individual schedules.
Length: 00:58:09
Elisabeth Samuels
Description: Good design boosts your SEO ranking, while bad design hurts your ranking. Having a website that ranks high on Google's SERPs is much more involved than just adding in keywords and having good content. Elisabeth walks you through critical factors of website design and development you need for ranking.Elisabeth is the brains behind Salterras web development. Her skills are not limited to the visual aspects of digital marketing. She is also very knowledgeable in the field of Search Engine Optimization.
Length: 00:33:06
Marty Marion
Description: Have you heard about the power of positioning SEO? Marty explains what it is, why you need, and how to use it to rise above your competition. Marty will be presenting a unique and provocative look at how positioning and the psychology of consumer and client decision-making impacts SEO, and why the application of buying intent needs to be turned upside down. Its guaranteed to shake things up.Marty Marion, founder of Master Positioning, and author of The Positioning Matrix, is here to show everyone from brand owners to agencies to advertisers the way to control how potential clients and consumers perceive and behave in favor of your brand and away from your competitors.
Length: 00:31:49
Robert Portillo CRO
Description: Join Robert while he unpacks what CRO is really about. This is NOT the usual CRO discussion. Learn what the two most important factors are that precede a website, the importance of value propositions and how to make a good one. Find out how to lay out a web page for the way people think and the common mistakes nearly all websites make. He'll finish up with some great tips and tricks that'll help you increase conversions fast.Robert Portillo has over 13 years of experience in online marketing. He has a deep love for CRO and SEO and the power it has to transform a business. He has started and grown 3 successful IT companies including a repair store and two mobile service companies.
Length: 01:11:20
Robert Portillo Audits
Description: Join Robert while he unpacks what CRO is really about. This is NOT the usual CRO discussion. Learn what the two most important factors are that precede a website, the importance of value propositions and how to make a good one. Find out how to lay out a web page for the way people think and the common mistakes nearly all websites make. He'll finish up with some great tips and tricks that'll help you increase conversions fast.Robert Portillo has over 13 years of experience in online marketing. He has a deep love for CRO and SEO and the power it has to transform a business. He has started and grown 3 successful IT companies including a repair store and two mobile service companies.
Length: 00:41:51
Michal Suski
Description: Keyword clustering has many faces on the one hand, there are Google Sheets and never-ending review processes that are usually difficult and boring to handle. On the other, you can rely on your lucky gut and intuition. Lets talk about the third option. The smart one. This scenario involves big data sets that will translate into relevant clusters based on Googles Algorithm. Join Micha during SEO Rockstars to find out how to change the tedious or gut feeling process into data-driven keywords clustering.Micha co-founded Surfer. Michal is an SEO specialist and someone who had led KampanieSEO before he ventured more into the world of digital marketing.
Length: 00:54:18
Matt Woodward
Description: This is a hot topic are link sellers really selling you links that will positively impact your ranking? In Matts presentation, he walks you through how to stop being ripped off by link sellers by exposing what to avoid and what you should look for when buying links.Matthew Woodward is an international speaker. Building websites, digital marketing & SEO has been his personal obsession for the last 20 years. Matt became an SEO sensation when he recorded what he was doing every day and shared it with the world.
Length: 00:39:41
Holly Cooper
Description: Holly is known to push the envelope of whats possible. Her latest discovery includes a network of cell phones to boost local businesses. Holly will take you through her 100 phone experiment. She will show you how each phone is setup and numerous case studies she has created.Holly is pretty infamous in SEO circles for her ability to scale things to Epic proportions. Shes well known in various SEO circles for things like ranking for multiple keywords with one video (easily). Shes made $30k from one YouTube Channel.
Length: 00:55:44
Marie Ysais
Description: Marie has perfected her SEO's agency's process for "unsticking sites." She tackles the latest algorithmic updates knocking sites off their rankings to sites stuck on the bottom of page 1 or page 2. At SEORockstars, youll learn the framework Marie uses so you can unstick your own or your clients' sites reliably and predictable without losing your mind!Marie has a unique strategy that has driven hundreds of websites into rankings over the challenge of going up. Her optimization strategies are more successful than Billboards, Yellow Pages, Mail Outs, Newspaper ads, and more. Marie teaches SEO and marketing with Moon.
Length: 00:43:38
Perry Belcher
Description: What does hand sanitizer and Perry have in common? Its just one of the many successful businesses he has built and sold making him one of the Worlds Leading Digital Millionaires. He co-invented the hand sanitizer and sold the patent in the 80s. He will break down his business building success formula for all attendees. Perrys continued success is worth emulating.Perry is a Jedi of digital sales and author of dozens of top books. He even has button named after him. Seriously. Its called the Belcher Button. Perry is an SEO expert, business marketing consultant, investor, importer, copywriter, Internet entrepreneur and Co Owner of Digital Marketer.
Length: 01:16:19
Jeff Lenney
Description: Known as the King of Affiliate Marketing, Jeff uncovers his method for affiliate SEO that gives him dependable income month after month. Jeff breaks down his complete process in an over the shoulder training as he guides you from start to finish in building your first affiliate site.Jeff is an SEO master. He began with Launch Jacking and quickly became known as Launch Jacking King. He then dug into affiliate marketing. Jeff makes 5-6 figures for each month and has earned $135,000 in a solitary day from Affiliate Marketing.
Length: 01:03:03
Clint Butler
Description: Want to learn advanced Schema from our very own Clint Butler? Clint will take you down the road of advanced implementation of schema for all types of content that leverage the knowledge graph and entities. This information will bring your sites into the future by feeding the AI technology Google is employing.Clint is the Head Tester at SEO Intelligence Agency and owns his own agency, Digitaleer, as well. He is the host of SEO This Week. Clint has created beginner and advanced SEO courses that teach insider knowledge to help people rank better.
Length: 00:55:48
Craig Campbell
Description: If youve never heard Craig speak, get ready to have your socks rocked. Craig is going to attendees through his exclusive process of flipping struggling websites for top dollar using his SEO skills. In true Craig fashion, he will drop as many sneaky little tricks that people don't usually disclose..With 18 years of SEO and digital marketing experience, Craig is a well-known trainer for agencies and individuals looking to enhance their skills. Hes best known for his blackhat SEO tricks.
Length: 00:46:51
Terry Samuels
Description: If youre in any local markets, youll want to pay attention to Terrys presentation. Terry shows you everything you need to know about how to rank with local SEO. He then takes you through the very important silo setup with some of private advanced schema that you probably dont know about.With 20+ years of software and computer expertise, Terry combines his technical abilities and leadership skills to give businesses strategic SEO authority, site layout, layout, and internal audits to move into powerful positions in their markets.
Length: 00:49:30
Brian Dean
Description: Want to learn content from one of the greatest content creators on the planet? Brian walks you through his content marketing strategy. But he wont stop there. He shows you how to triple your efforts to get massive traffic to your blog posts.Brian Dean is many things. Link builder. SEO Genius. Backlinko founder. Among a long list of sought-after entrepreneurs, Brian is considered a god when it comes to Search Engine Optimization.
Length: 00:22:39
Dori Friend's Presentation
Length: 00:32:10
Moon Hussain
Description: From doing major testing with new affiliate sites to getting affiliate sites in tough niches (hosting, online casinos/gambling, SEO, pets, supplements, health) to the top spots in Google, Moon has noticed the same theme to pushing sites up. In this presentation, she talks about the most important factors and strategies that she has used, time and time again, to show successful results in her own SEO agency (Rule Your Rankings!) to push her own sites/client sites to the top: clean site structure, on page SEO, & much more!With 12 years of SEO experience, Moon co-founded an on-site and technical SEO focused agency, Rule Your Rankings, which broke 6 figures within one year. Her free FB group, Rule Your Rankings, now has 4,800+ members.
Length: 01:08:50
Mike Pearse & Brad Mabry
Description: The NFG guys will reveal how they diversify and create an online income stream portfolio (they call it their all-weather portfolio), which is primarily accomplished through Pay Per Lead.This powerhouse duo are known as NFG SEO. Brad started with eBay, moved to websites, finally leading up to SEO. Meanwhile, Mike (one of the world's greatest SEO experts) started as an affiliate marketer, moving on to digital marketing agencies then to PPL.
Length: 01:04:49
Stephen Floyd
Description: Google is NOT your friend, they want everyone to buy their pay per click, thats why they allow Spammers to dominate the Maps rankings using techniques that violate their terms of service. If you play by the rules, its nearly impossible to win, even in very low competition markets. Stephen has been been winning the coveted 3 pack for clients since Google first launched Maps. Stephen reveals, Step by Step, how you can do the same!Stephen has been in the digital marketing industry since 2004, when he ranked his company Gurus2Go #1 on Google for computer repair; he held this position for several years then had a 7 figure exit when it was acquired. He is a HIGHLY regarded Local SEO thought leader and trend setter. Top magazines like Search engine Journal have featured him.
Length: 00:37:45
Roger Bryan
Description: Have you ever heard the saying "Most Marketers are Broke"? Why is that? Why does there seem to be a small group of marketers that break through to build massive wealth while others struggle to make ends meet? The solution is simple. Join me as we decipher what is missing from YOUR Wealth Building Journey.Roger has partnered with several of the world's biggest corporations. Over the last 23 years, like Microsoft (c), Goodwill Industries, The American Red Cross, MedStar Health, and 1,000 local businesses. He was # 40 in the Most Influential Digital Marketers' Entrepreneur Magazine.
Length: 00:48:53
Leon Sheed
Description: The current SEO Industry is damaged and tarnished by unethical & spammy SEO companies. In this presentation, Leon takes you into the trenches with him and youll discover what's currently working with targeting 'In-Market' buyers of your SEO solutions. He then shows you the best market avenue for reaching 'deep-pockets' prospects to connect and to book consistent SEO Sales calls every week without paying for expensive Ads or building out complicated funnels.Leon is Australias best psychology trainer for his ability to understand the physiology of human behavior coupled with social dynamics. Leon lives, sleeps and breathes fast business growth and is determined to help businesses achieve their very best by coaching them to be able to do so.
Length: 01:03:36
Q&A
Length: 00:15:40