What You Get:
In just 8-weeks you'll get certified in Growth Marketing, learning from experts with real-world experience in a friendly, approachable environment.
Growth Mindset and Experimentation
Especially now, we all need to do more with a lot less. That's OK, in this module we get scrappy. You'll learn how to develop a growth mindset to help you move faster, and to lean on data to uncover insights that save you precious time and resources.
→ Experimentation:
You'll get our blueprint for running and tracking your growth experiments.
→ Full Funnel Growth:
You'll learn the full growth funnel, and how you can take advantage of it to find new ways to grow your business. We'll dive into strategies for awareness, acquisition, activation, engagement, retention, resurrection, and referral. As you can probably tell, we care a lot about strategies for RETENTION.
→ Growth Mindset:
Learn what growth is, and how to build a growth marketer's skills. You'll completely reprogram how you think about marketing companies and think like an inventive, creative, data-driven growth marketer.
→ BONUS:
‍The Growth Experimentation Template.


Customer Psychology
Module Two is all about getting into the heads of your most valuable customers, to uncover the leanest ways to convert them. Especially in challenging times, we need to fully understand who we are selling to, and how to talk to them to add value.
→ Day in the life mapping:
Get into the heads of your most important customers, so you can target them with the right messaging on the right channels.
→ Customer Interviewing:
Here you'll learn how to build a customer interview that actually gets you the insights you need to build your growth marketing strategy.
→ User Personas:
Here you'll build your user personas. These personas will serve as the foundation for your content marketing, ad strategy, SEO, and email marketing strategy.
→ BONUS:
‍The Growclass Day In The Life template, The Growclass User Persona template, Our scripts for effective customer outreach.
Goal Setting and Tracking
This module is all about setting smart goals for your growth to create focus. Without tracking, you are running blindfolded with both hands tied behind your back. With them, you can see clearly, dodge obstacles, and optimize your marketing budget.
→ Google Analytics Masterclass:
Here you'll go deep into how to use Google Analytics to understand your growth, track your experiments, set up dashboards and focus your team.
→ North Star and Health Metrics:
You'll set goals to focus your team, and clearly communicate your success.
→ Customer Acquisition Cost:
You'll dig into the numbers with our non-intimidating approach to understanding CAC.
→ BONUS:
‍Templates for Overworked Marketers: Calculating your customer acquisition cost, A simple Profit and Loss template for marketing.
Copywriting for Conversion
The copy on your landing pages, in your ads, and in your emails are directly tied to sales. We'll give you the tools to feel confident writing landing pages, ad creative and emails that convert customers 15x faster.
→ Finding your Unique Value Proposition:
‍This is the most important bit of copy for your company— so let's break down how to write and test yours.
→ Writing Landing Pages:
You'll learn the Growclass framework for writing landing pages that convert— a step by step guide to take the guesswork out of landing pages.
→ Writing Ads That Convert:
Stop wasting your ad dollars. Craft ads that convert with our headline templates.
→ BONUS:
‍The Growclass 10 Step Landing Page Formula.
Facebook Ads
Facebook ads can be a powerful tool for growth… or a money pit. In this 10-part lesson you'll go deep into building your skills and confidence with Facebook ads. You'll learn:
→ How to set up, choose the right campaign type, and build your ad audiences
→ A non-confusing way to set up your data properly
→ How to structure your campaigns to perform
→ How to plan your copy and creative (with templates and formulas)
→ How to budget for your Facebook ads, and how to know when to double down or turn them off
→ How to pull and read data from Facebook, and how to explain it to your boss or investors
→ How to scale up spend on successful ads
This module is taught by Facebook ads expert Gordon Leslie, the Co-Founder of ClientMagnet. Gord manages ads for the likes of Clearco and Wattpad.
Google Ads
Let's dive into Google Ads like a pro. Google ads is one of the post powerful platforms because the folks finding you are *searching* for what you sell.
‍
In this 8-part module lesson you'll learn:
→ How to set up your campaigns and structure your ad groups
→ How to do positive and negative keyword research so you can appear for your customers and disappear for folks who aren't ready to buy from you
→ How to plan your ad copy and creating (and how to take advantage of some tricks most marketers overlook)
→ How to set your budget, and bid properly
→ How to target your ad campaigns to find your best customers
→ How to track your performance with conversions
This module is taught by Adam Scanlon, Co Founder of Client Magnet. Adam has used Google Ads to make millions for his clients that span large companies, to brand new businesses.
Email Marketing
Email is the most important source of revenue for most businesses. You'll learn the most important part of email marketing (and it's not what you think), how to build a larger and more engaged list, and how to use behavioural psychology to write better emails.
→ Building Your List:
You'll learn effective strategies for growing your email list, and keeping them engaged.
→ The Most Important Part:
‍We'll dive into email deliverability, and to make sure your emails end up in customer's inboxes, and not in spam.
→ Behavioral Psychology and Email Marketing:
You'll learn how to write compelling emails that convert your customer at every stage of the funnel.
→ Pro Tips for Expert Email Marketers:
‍Steal our hard-earned tips from sending millions of emails.
SEO for Humans (and machines)
SEO is a key tactic to bring organic traffic to your business– but most people are doing it wrong. In this lesson you'll learn how to set up a framework for SEO. You'll learn technical SEO, onsite, content optimization, and offsite SEO.
→ Your Framework for SEO:
Learn how to think like an SEO marketer, and develop your plan.
→ Technical SEO:
Learn how to audit your website, and make key changes to rank higher. No jargon, just helpful explanations.
→ The Perfectly Optimized Page:
You'll learn how to structure your landing pages and content for Google.
→ Off Site SEO:
You'll learn the benefit of good PR for SEO, and how to build your credibility.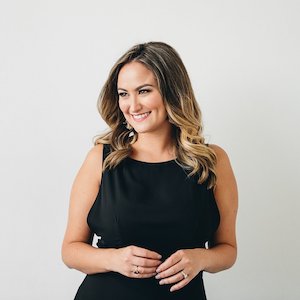 Sarah Stockdale – Growclass Academy: Videos