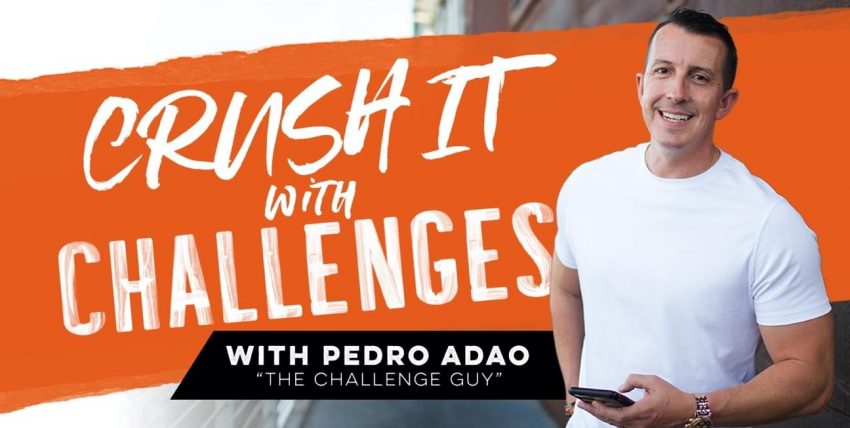 "UNLOCK Dormant Profit In 30 Days or Less With The New Art & Science of
Modern-Era
Online Challenges
(No Experience Required)
"

Lifetime Access To Crush It With Challenges Program

 

($4995 Value)
The June Jump Start Cash In On Your Challenge In June ($2,997)

 

Starts Thursday June 4th 5 Days a Week Of Live Coaching To Help Ensure You Launch Your Challenge In June
2 Day Live Virtual Challenge Launch Intensive  ($9,995)

 

Live Workshop on Thursday June 18th & 19th 
​The 7 Figure Challenge Playbook

 

($4,995) delivered on Thursday June 18th

The Ultimate Offer Design Worksheet

 

($995)
Fill Up Your Challenges With Ease: High-Converting Facebook Ads For Challenges

 

($995)
​The Billion Dollar Challenge – Interview With Ryan Blair Creator Of The Body By Vi Challenge ($1,995)
​Movement Maker Movies with Jeremy Finlay ($1,995)
LIFETIME ACCESS TO
CRUSH IT WITH CHALLENGES
SIGNATURE PROGRAM
It's here. Get the world's most cutting edge, step-by-step guide for building and scaling your movement business using online challenges. A complete start-to-finish guide.
PLUS
30 Day Launch Your Challenge, Challenge
(Total Value $2997)
Avoid the mistakes of trying this on your own! You'll get your hand held throughout the process, so launching your online challenge is simple, straight forward, and even fun. We're here for you every step of the way.
PLUS
LIVE VIRTUAL WORKSHOP
(Total Value $9995)
For two full days, my coaches and I will take you through each step in real time, so you learn AND begin implementing the online challenge & business strategies. You'll be able to ask questions, get help, and get a massive quick-start on your results.
PLUS
THE 7 FIGURE CHALLENGE PLAYBOOK
(Total Value $2995)
This playbook is the culmination of ALL my learning, experience, secrets, and behind-the-scenes magic to launching and growing 7 figure challenges.
BONUS ITEM 1!
THE ULTIMATE NICHE FINDER WORKSHEET
(Total Value $397)
They say "Your riches are in your niches"… and discovering your niche is one of the critical ingredients to cashing in on the goldmine of opportunity that is movement marketing. You'll learn how I identified small, seemingly "obscure" groups of underserved people who were just WAITING for someone to step in and lead… and get paid very well for it. Even if you're brand new to this… this worksheet will simplify the niche-finding process for you.
BONUS ITEM 2!
THE ULTIMATE OFFER DESIGN WORKSHEET
(Total Value $2995)
Your offer is how you package and position your solution to your movement. Getting this right the first time will save you months of pain and head-ache. Too many people overlook the secrets of offer creation, so we've created a simple guide for extracting all of your value and conveying it in a simple, compelling, irresistible way.
BONUS ITEM 3!
FILL UP YOUR CHALLENGES WITH EASE
HIGH-CONVERTING FACEBOOK ADS FOR CHALLENGES
(Total Value $2995)
Millions in ad-spend specifically geared towards how to market your challenge. Even if you've never deployed a single ad, this module will accelerate your learning and cut out all of the mistakes I made along the way – you also get some. of my best converting images, headlines, hooks, and copy to instantly start using.
BONUS ITEM 4!
THE BILLION DOLLAR CHALLENGE
(Total Value $1995)
BONUS ITEM 5!
MOVEMENT MAKER MOVIES BY JEREMY FINLAY
(Total Value $1995)
Stories sell and grow your movement like wildfire! And there's a method for telling the stories of your movement, so you capture the heart and spirit so your people do all the selling for you. You'll get access to the same course that goes into how he used story telling to help generate over $40,000,000 for a handful of movements online!
"Pedro, how do I know this will work for me?"
To start the transformation in your life, content is not enough, you need the RIGHT habits & environment! So we've created a comprehensive system to make sure you don't fall off the band-wagon in case you have a bad day. Put simply? We've got you.
A CLEAR PATH TO SUCCESS
We are laser-focused on ONE strategy here. which makes getting to success so much easier. Unlike other programs that teach anything that 'works', we are 100% committed to growing our business with the power of a challenge. This takes so much guess-work out winning.
A GLOBAL FAMILY OF MOVEMENT MAKERS
World-wide there are heart-led, mission-driven, purpose-focused movement makers helping other movement makers launch and grow their business online. You don't have to do this alone any longer.
A STEP-BY-STEP PROGRAM
You don't get vague concepts here. We give you detailed, nuanced, tiny steps to take. If doesn't matter if you're an online tech genius, or just learned how to email (😂)… every step is laid out in critical detail.
FOCUSED ON FINANCIAL FREEDOM & FULFILLMENT
We are ruthlessly committed to helping every single member have a clear, empowering path to financial freedom here.
FUN, FAMILY, AND FRIENDS
This isn't just about wealth, it's about creating a life of FUN, of FAMILY, and FRIENDSHIPS. These are our core values. We want you to ENJOY your path to success with us!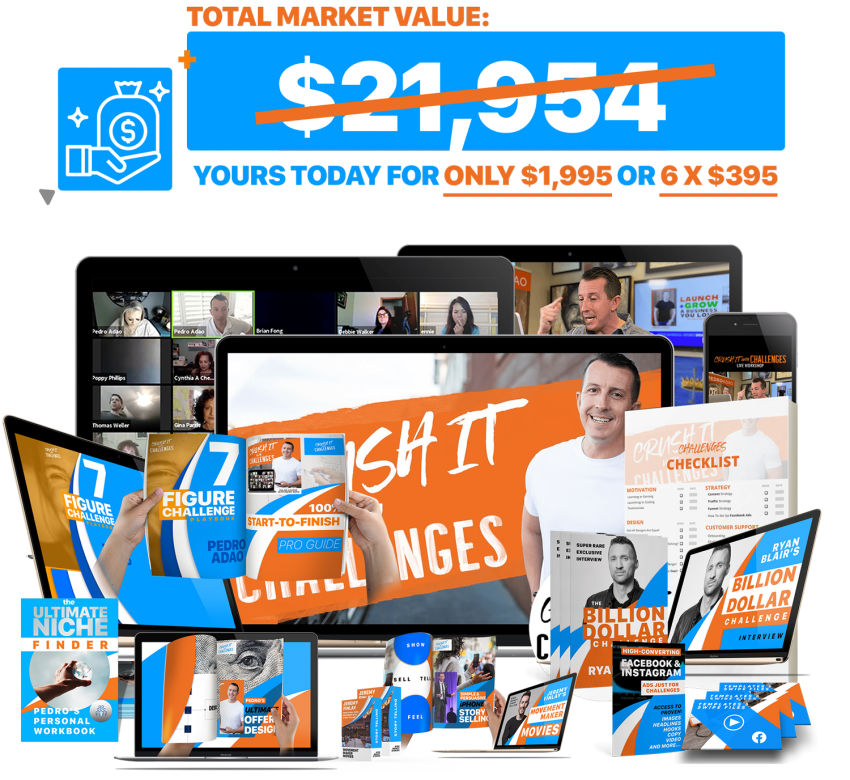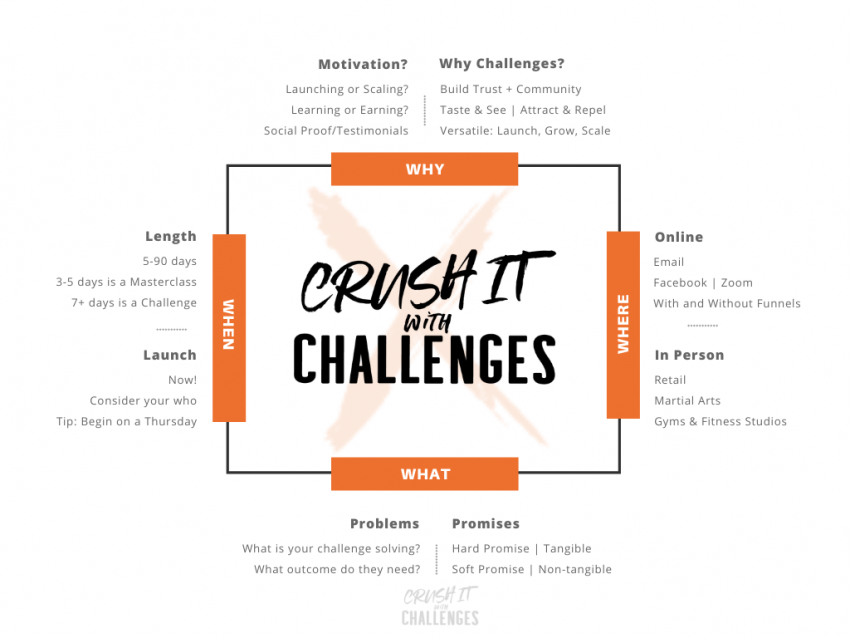 Pedro Adao – Crush It With Challenges Contains: Videos, PDF's