TRAFFIC TSUNAMI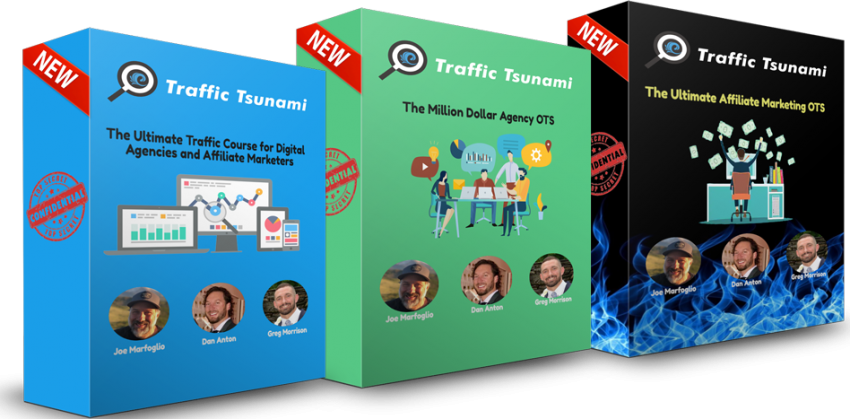 "Director's Cut" has never looked this good, or been THIS essential…

 …Because it is time for $10,000 to become the new normal, per DAY on affiliate sites, and per MONTH from individual clients!

…and YES! Greg is dropping the NUKE you've all been asking about! PLUS Dan is revealing his full $100,000/month agency systems including exactly how he pays for ads in SEVERAL mediums to get clients, and to service clients fast, both.  Joe is an absolute All-Star now who commands ~$10,000/month from MULTIPLE YouTube clients, with all new reveals of how he is doing that, step-by-step and OTS!
Here's A Quick Recap of How Greg, Dan, Kosta, and Joe are putting the TSUNAMI in "Traffic Tsunami:"
Live Ongoing Webinars 1/week: Stay plugged in, all year, to Greg's research, Joe's YouTube research and fulfillment, and Dan's $100,000/month agency, and to Kosta's Quality Guest Posts. Greg will have a webinar once every two weeks, alternating with Joe and Dan teaming up every other week.
An upgrade of Kosta's EXCLUSIVE SOFTWARE AND LINKING SERVICE:
As Traffic Tsunami members, be the only people with exclusive access to research keywords via his software.  Greg explained on the webinar how critical and powerful this ability is for you.
Greg:
An absolute bombshell has dropped!  Greg has begun a small handful of multiple high-dollar affiliate sites, and is fully revealing one of them Over-The-Shoulder in its entirety!  Many hours are already recorded, and will be released over the coming months.  This series alone, along with Greg's webinars, could power a $10,000 mastermind, but we've decided to INCLUDE it in Traffic Tsunami.  It is so valuable that we are going to release it over a few months, rather than all at once.  Greg's affiliate sites will be taking in $1000's per day, and likely much much higher than that as the year progresses.
For convenience, Greg's SEO Bible and PBN training is imported into Traffic Tsunami, and will be updated if necessary throughout the year. Greg will also hold ongoing live webinars throughout the year, as explained above.
Dan:
For the first time, Dan will be revealing his real-life, highly tested, systematized, profitable, and comprehensive approach to using paid ads across multiple platforms (Google, Facebook, YouTube, and Quora) for both client prospecting and client fulfillment (using ads to get clients, and doing ads on behalf of clients).
Dan will also demonstrate how he does retargeting funnels for acquiring and servicing clients. He'll reveal several other processes that are critical for his $100,000/month agency, such as how he uses outsourcers and how he does reporting.
Joe:
Along with Dan and Greg, the three have started a growing agency TOGETHER and plan to continue it to a million-dollar agency and beyond… while showing you how they are doing it, in real time, this year.  The immersion, motivation, momentum, and training from following along with them should lead to immense growth in your own agency this year!
Joe has expanded his YouTube clients to several that are between $6000 and $10,000, and he'll continue to show you his updated systems and knowledge for acquiring and fulfilling clients at that level.
Joe will also continue with the Mold Removal Over-The-Shoulder series, and others. Joe is all about OTS for 2020!  Plus, live webinars with Dan every other week, alternating with Greg.

FUSION PROTOCOL
Who else wants to practically FORCE new business clients to beg to give you money, because you have the EXCLUSIVE software and know-how to deliver EXACTLY the digital marketing bundle they are looking for…

 …Because Getting Even ONE Client Paying You $595 or $995 Per Month Will Change Your Life!…
Here's the Rundown of What the Fusion Laboratory Has Created For You:
7 Million-Dollar "Adventure-Preneurs" Collaborated to Make the Ultimate Digital Service at the Ultimate Price, for their Apprentices to Offer to Clients

The awesome strength of Fusion Protocol lies in four places: EXCLUSIVE SOFTWARE that gives you an impossible advantage, WHAT we train you to be able to do, WHO is training you, and the PRICING.  Fusion Protocol will be very affordable for YOU, just as its price to your new business clients will make it irresistible to THEM.
Access to not just one, but two pieces of EXCLUSIVE SOFTWARE:
One is an overall Command Center for selling and fulfilling Fusion to clients, and the other gives exclusive and targeted access to an ocean of
ideally created incoming website links that are part of the digital services you'll offer to clients.
(The exclusive software is paid for separately, but is a minimal cost: Fusion Command Center comes free for 60 days, and is $19/month after that, and will save you over $300 in services that your "competition" would have to pay.  The other will only need to be paid for as you request the links, out of money you receive from your clients.)

WHAT
money-getting method: experience has taught us that there is a specific set of services that most local (and national) businesses know that they want to pay for, but they have a very hard time getting that service done reliably and competently.  There is also a specific way to approach and sell the owners of these businesses that has been thoroughly tested by us!
The Fusion Protocol is a very specific set of digital marketing services, targeted in two ways:
1) You can learn the skill to perform these services (which relate to Google Search Engine Optimization, including in the Maps listings) within about a month.
2) Businesses know that they want these exact services, at a particular price point (see below) but have great trouble finding somebody to competently perform them!
WHO
does the training: Greg Morrison, Dan Anton, and Joe Marfoglio will teach you, both step-by-step and by demonstrating with real clients, how to fulfill these digital marketing services for clients.  Each of them has many many years of experience, and millions of dollars earned in their own 1- and 2- person digital marketing agencies, doing exactly what they are teaching you in Fusion.
Eric Brief and Michael Tesalona will teach you how to approach potential clients, and exactly how we sell them Fusion.  You'll have the script pieces you need, the training, and the how, what, and why. You'll be using exactly what our apprentices have used to get their own clients, plus what Eric, Michael, Dan, Joe, and Greg use.
Here Is What Your Members Area Looks Like: