There's a new way to grow your startup.
Our Startup Growth Program combines a world-class curriculum, hands-on mentorship, and step-by-step growth playbooks. We've created the most efficient, least risky way for founders and teams to get traction and scale.
We've helped grow some of the largest startups:

"The Demand Curve team knows paid acquisition, conversion, landing pages, and a lot more very well. If you're lagging behind on your growth skills, let them teach you what you're missing."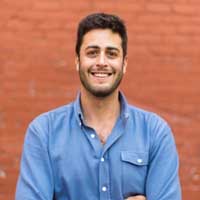 Alex Kracov
Head of Marketing, Lattice
"
Demand Curve has trained many YC company founders and employees — and are a course we regularly recommend. Growth marketing expertise is a critical component of startup success.
Gustaf Alströmer
Partner, Y Combinator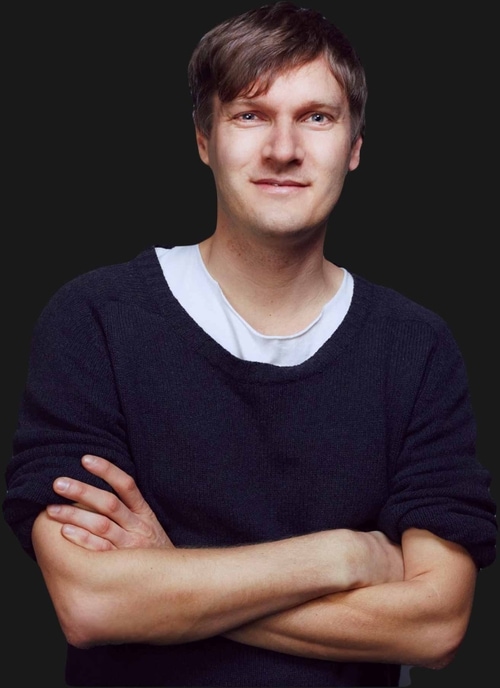 Our course includes in-depth content and hands-on help
World-class curriculum
We're growth experts who've grown today's largest startups. We've turned our strategies into the best-reviewed growth marketing course. It contains no fluff, and it helps you execute on growth ideas within hours.
We've flipped the traditional course model on its head: You will spend 20% of your time learning and 80% of your time actually growing your company — with our help along the way.
Your experience is tailored to your company type: B2C, B2B, mobile, SaaS, service businesses, agencies, and more.

Feedback
Courses include access to our team of growth experts. They answer questions, brainstorm strategy, and provide detailed feedback. You're getting an experienced growth advisor in your back pocket.
They can audit your full marketing stack, including your ads, landing pages, conversion tracking, and much more.

Projects
The last component of our course is projects. Step-by-step, projects walk you through implementing our course content. You'll use them to grow your company while you learn.
Putting it all together, this is the full Demand Curve experience: You read and learn on your own. We'll show you step-by-step how to execute. We'll review your work so you perfect it.

Examples of what we teach

Our curriculum consists of in-depth, tactical insights. There is no fluff. As you learn, you can apply these tactics to grow your company in real-time. Our expert team is here to answer your questions along the way.
Customer Acquisition
We'll help you launch and scale channels best suited for your company. You'll learn advanced tactics for channels including:
Facebook/Instagram, Google, LinkedIn ads, Pinterest Ads, Snapchat Ads, YouTube, Quora, and others
B2B leadgen and cold outreach
Content marketing and SEO
We train SaaS companies, e-commerce startups, mobile apps, games, and service businesses.
Growth Strategy
Our team breaks down your growth goals, business model, product(s), and target markets to develop a growth strategy tailored to your company.
We'll help you identify your ideal growth channels, how to better define and reach your target audience, and how to craft the right messaging to convey your value.
You'll save months of trial and error by leveraging proven growth strategies we've used for companies similar to yours.
Analytics & Tracking
We help you set up conversion tracking and analytics. More importantly, we help you identify and measure the metrics most critical to your company.
Step one is understanding what's worth measuring. Step two is measuring it properly.
Experimentation
Growth happens when your team takes a scientific approach to identifying and testing the highest-impact projects.
We teach you these processes so you can continue driving growth far after Demand Curve.
Landing Pages
Low-quality landing pages result in wasted advertising efforts and missed revenue potential. We give you a step-by-step process for writing and designing high-converting websites.
We'll show you the best-converting landing pages we've ever seen.
User Onboarding
A good user onboarding experience is one of the most critical parts of your funnel. Yet, it is one of the most neglected.
We'll help you design an onboarding experience that helps users discover the core value of your product — turning them into engaged customers.
No fluff. Real growth wins.
Working with Demand Curve was a game changer — the global team has gotten enormous value out of the work they've done with us. They've revamped how we think about lead generation via email and ads, and taught us a new rhythm around approaching and nurturing customers.

This is the team you want to learn growth from. They know every channel and every tactic. And they know how to scale efficiently.
You learn the tactics Bell Curve uses to grow their clients. When I wrote the growth book, Traction, I hoped someone would build a course like this.

I've learned so much as a new marketer that probably would have taken at least a few months and considerable stress. The confidence boost I have now when running campaigns and publishing projects is unparalleled.

These are the people we go to for growth advice. They pointed out what we needed to change in our Facebook/Instagram strategy and landing pages — and it made the difference.

I'm a junior marketer at a startup preparing to aggressively begin paid acquisition. I knew enough growth to be useful, but I needed to know more to be very effective with ads.
Demand Curve provided the hands-on feedback and walkthrough references needed to level up to senior-level skills.

The Demand Curve team knows paid acquisition, conversion, landing pages, and a lot more very well. If you're lagging behind on your growth skills, let them teach you what you're missing.

The Demand Curve course might be the most valuable thing I've done for my career. They really helped me develop a growth mindset. The course allows you to tailor your experience to serve the needs of your business, and every project you do contributes to growth in a direct way. Best of all, you're able to get honest, in the moment feedback from instructors.

We landed two big meetings using their cold outreach strategy — while we were still in the course.

You're working with the best.
We're Demand Curve. Our growth knowledge comes from our growth agency and our large marketer community. We also run growth talks for Y Combinator, TechCrunch, and Google.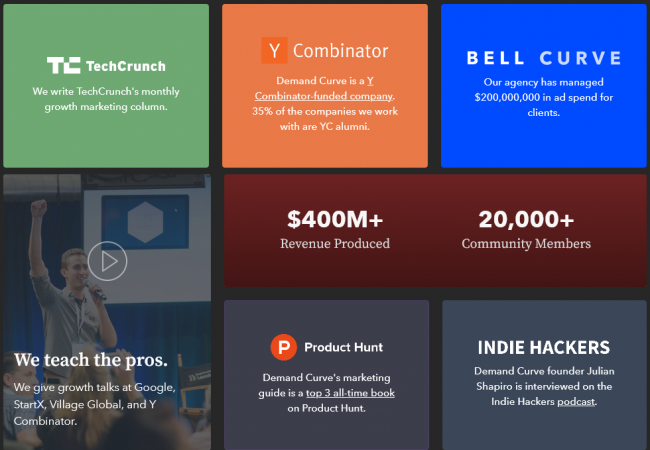 We have two course options
Our program costs to (one-time payment). Compare that to contractors, full-time hires, or agencies that cost thousands per month.
For budget-conscious and scrappy startups willing to put in the work, the Startup Growth Program is one of the highest-ROI investments you can make for your company's growth.
Self-Serve
Take a DIY approach to growing your startup.
Access our flagship curriculum for 12 months.
Guaranteed entry into our invite-only Slack group.
Ongoing curriculum updates.
Upgrade to Full Program at anytime.
Full Program
Accelerate and de-risk results with our mentorship.
Everything in Self-Serve plus:
Access to a dedicated growth instructor for 6 months.
In-depth audits and reviews of everything you build (landing pages, ad channels, onboarding, and much more).
Your program experience is tailored to your business model and product.
Receive a custom growth strategy/roadmap.
Flexible payment plans.
No-risk, 7-day refund policy.
Demand Curve – Self-Serve Program Contains: Videos, PDF's