The fast and cost-effective way to build and validate your startup ideas, without any code.
Learn the mindset, process and tools to rapidly turn your idea into a first product you can test with real customers, all without knowing or learning how to code.
Get 8 course videos free ↓
Got product ideas, but not sure how to get started?
No problem! This course will boost your idea validation skills with a practical framework to build Minimum Viable Products (MVPs), and teach you how to build and launch that first product yourself, without code.
After completing this course, you'll never waste time on the wrong idea again.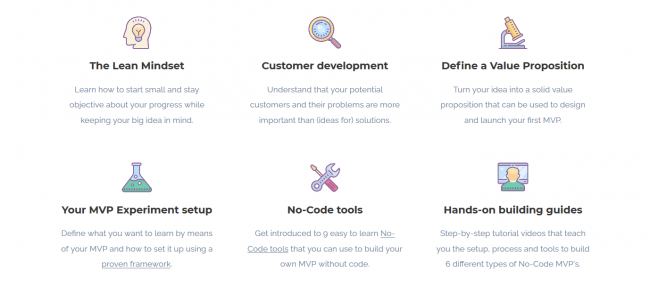 Who it's for
This course is for anyone who's looking for a hands-on and pragmatic approach to kickstart and validate new startup ideas:
Startup Entrepreneurs
Product Managers, Marketers and their teams
Corporate Innovators & Intrapreneurs
Innovation Managers & Directors
Small Business Owners
Students
And yes, developers too!


This course includes
🔑 Immediate access to all the content
📖 Digital and printable worksheets
📝 Assignments to apply your new skills
🙌 A reading list with in every chapter
🛠 An introduction to 9 easy to learn no-code tools
🏗 Step-by-step building guides for 6 real-life No-Code MVP's
✅ Actionable and personal feedback on your idea
♥️ A private student community
💡 5.5 hours of curated and practical knowledge
📼 42 proactive, easy-to-digest 5-20 minute videos
💰$500+ worth of software deals to start your journey
What you will learn to build in this course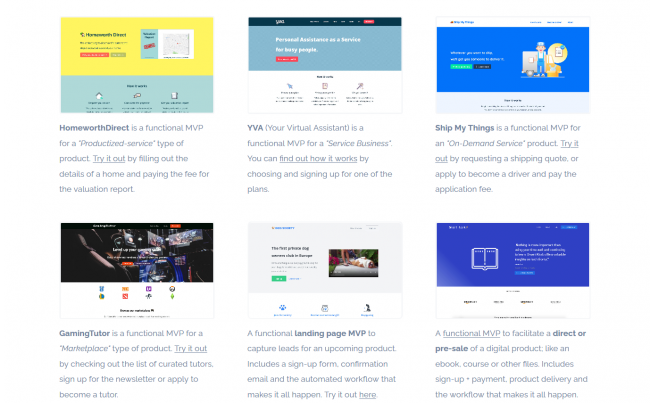 Not knowing how to code shouldn't stop you from investigating whether your ideas can reach their full potential. Start today.
Bram Kanstein – No Code MVP Contains: Videos, PDF's