Advanced Home Workouts – MindValley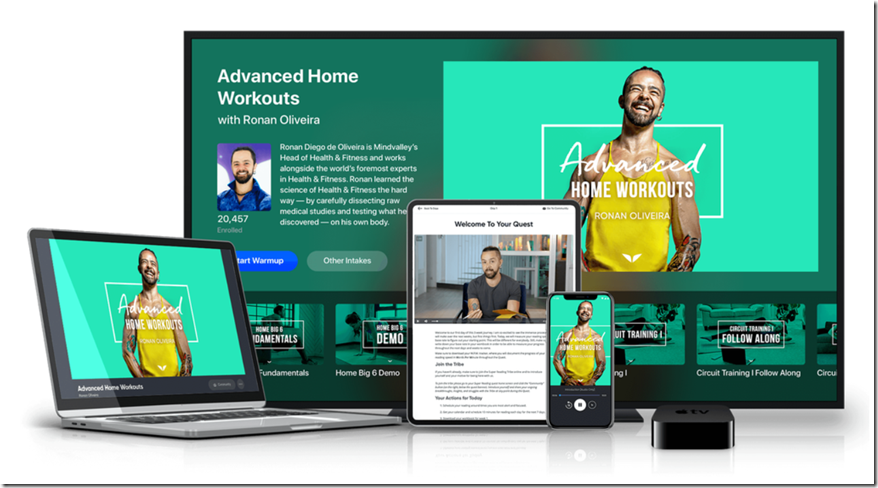 Learn the fundamentals to advanced home workouts — and dramatically increase your strength, endurance and mobility EVEN WITHOUT a gym
Experience Advanced Workouts At Home
For anyone who wants to learn advanced workouts at home with no gym equipment— and get powerful and fast results based on the latest science of fitness. Are you looking for a workout that you can do at home without expensive gym equipment?
Are you looking to get remarkable results in the fastest time?
Are you wanting to increase your strength, endurance or mobility?
Enter the Advanced Home Workouts Quest by Mindvalley's Ronan Diego de Oliveira.
This 7-day program is designed to teach you the fundamentals of advanced home workouts to not just help you keep fit, but to dramatically increase your strength, endurance and mobility — to become the fittest you've ever been.
This program is free for everyone in the Mindvalley community who wants a phenomenal, more advanced workout at home.
You will see and feel results in no time.
You will learn the fundamentals of advanced home workouts so that you can increase your strength, endurance and mobility in just a few minutes a week.
This program will teach you the fundamentals of strength training in order to develop strength and muscle mass. You'll learn a series of circuit exercises that mix strength with cardiovascular training, endurance training, and the type of movement required for 'active' recovery. You will also learn best practices for progressing your fitness level.
What You'll Learn
Get Fit Fast –

 

Learn advanced full-body exercise routines that you can perform in less than 30 minutes to set you on the path of sustainable fitness.

Rapidly Increase Your Mobility –

 

Develop healthier joints in your body to keep you mobile and fluid. Enjoy the activities you love free of chronic aches and pains.

Gain Muscle and Build Strength –

 

Not only does this Quest keep you healthy and fit, but it also helps you build strength and muscle mass to keep you strong and active.

Live Longer –

 

Have the vitality you always wanted and start feeling and moving far younger than your actual age.

Perform Like An Athlete –

 

Have the energy and the stamina to go the extra mile in your career and also at home.

Be Healthy –

 

This Quest doesn't just train your body. It also trains your breathing — and gives you the knowledge you need for better nutrition and sleep. Stay sharp in mind and body.
SIZE: 4,44 GB
Advanced Home Workouts – MindValley Contents: Videos, Pdf