A Yogi's Guide to Joy By Sadhguru – MindValley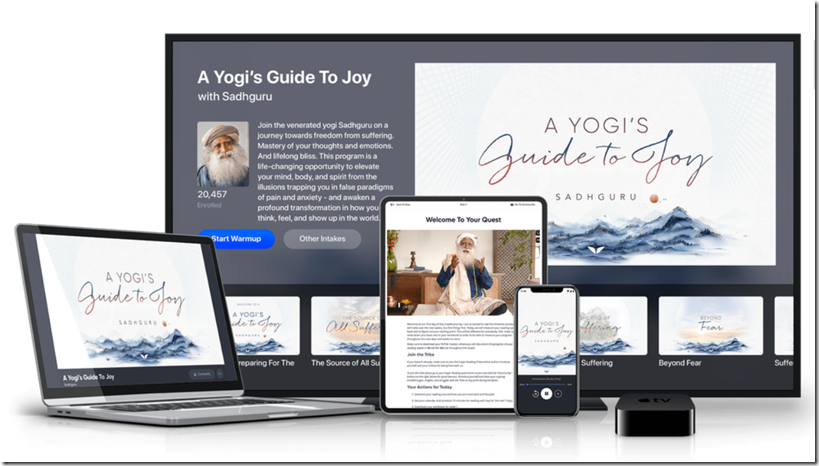 A Yogi's Guide To Joy
Throughout your 15 days with
 

A Yogi's Guide To Joy, you'll join Sadhguru for a daily deep dive into the inner workings of your emotions, disposition, and soul.
The program is divided into three parts: each with a daily video lesson that lasts just a few minutes, but enriches you with new tools and perspectives that serve you for a lifetime.
The program is designed to simulate having Sadhguru himself as your personal mentor.
This quality time with Sadhguru (and with yourself) will become the happy highlight of your day throughout your journey.
And when you reach the end, you'll emerge as a brand new person who shines in every moment with the light of unconditional joy, love, and peace.
Live In Perpetual Bliss And Joy
A Yogi's Guide To Joy
,

 

drawn from Sadhguru's wisdom, is a 15-day journey towards freedom from suffering, mastery of your thoughts and emotions, and lifelong bliss.
With Sadhguru as your guide, you'll embark on a profound adventure of discovery that reveals:
Your true self and your place in the cosmos ~

The most productive way to navigate your thoughts and emotions ~

Where suffering really comes from (and why it's a choice, not a necessity) ~

How to live in perpetual joy and child-like playfulness ~

The key to achieving true balance and stability in all areas of your life ~

And how to define and embrace your personal definition of freedom and fulfillment.
A Yogi's Guide To Joy
 

is not simply a spiritual reflection.
It's an opportunity to intimately connect with one of the modern world's most exalted yogis and visionaries as he engages every dimension of your being –
To awaken a profound transformation in how you think, feel, and show up in the world.
SIZE: 5,1 GB
A Yogi's Guide to Joy By Sadhguru – MindValley Contents:  Vidos, Audios, Pdfs, Pngs